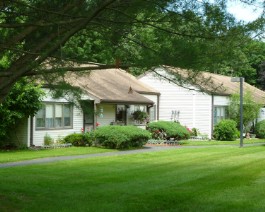 Bethel has been awarded $800,000 in funds from the Community Development Block Grant (CDBG) Small Cities Program to renovate and update the Reynolds Ridge Senior Housing Complex.  Renovations are to include the creation of two handicapped accessible units, replacement of interior and exterior doors, replacement of windows, and improving energy efficiencies in 80 units of housing.
Reynolds Ridge was completed in 1979 to provide elderly and disabled housing for the low income elderly (62+) and self-sufficient persons of disability, it is subsidized through HUD's Section 8 program. Located on a hilltop in the country, with bus service to downtown Bethel and surrounding towns, there are 26 efficiency apartments and 14 one bedroom apartments for qualified low income senior citizens, age 62 and older and self-sufficient persons of disability.
The Reynolds Ridge Complex serves an integral part in this community by ensuring that seniors and disabled persons have a safe place to live.  Thank you to our First Selectman and members of the Bethel Housing authority who helped to secure these much needed funds!
Read more on the Bethel Bulletin: http://www.bethelbulletin.com/bethel-receives-800000-in-cities-grants-for-reynolds-ridge-senior-housing