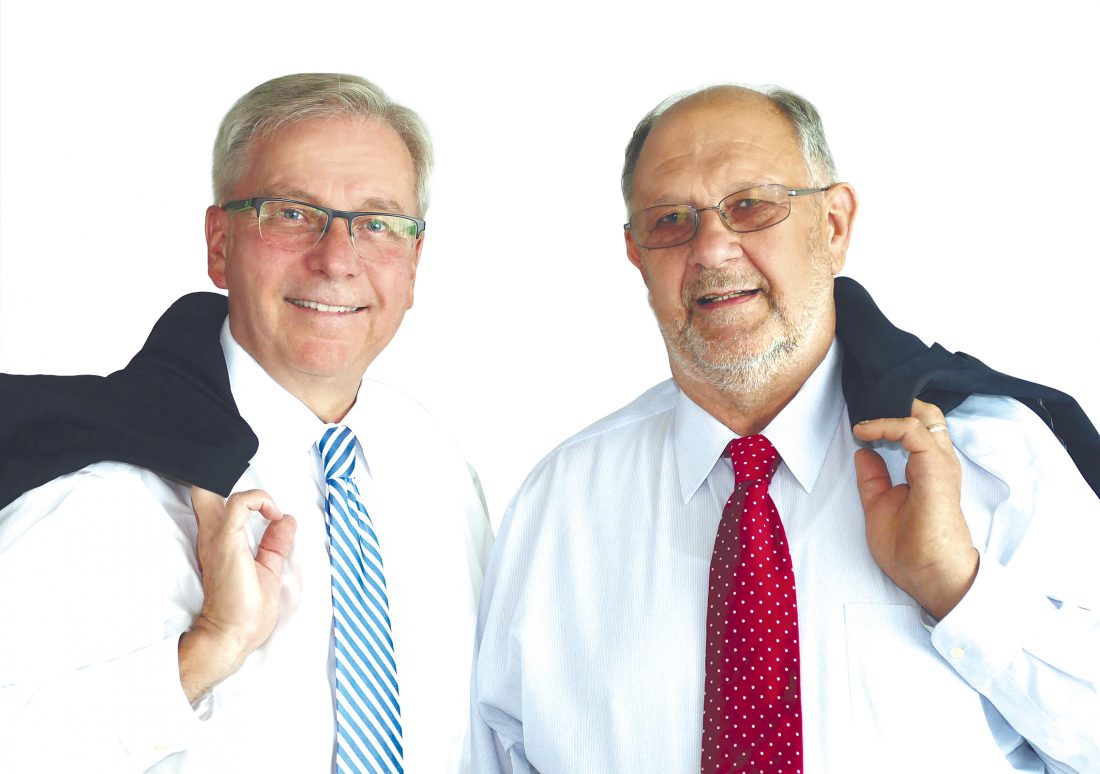 Matt Knickerbocker and Rich Straiton Appeal to Voters for Another Term
Dear Friends,
Rich Straiton and I are running for reelection to the positions of Selectman and First Selectman in the upcoming November election. We sincerely thank you for the trust you have placed in us, and we wish to continue working on your behalf.
A lot has been accomplished over the past few years. We have resurfaced more than half of all town roads. We have made significant improvements to our public water department. A system that once suffered from neglect and was losing money is today one of the best public water suppliers in the state.
We have strongly supported our nationally recognized educational system and helped launch the long overdue renovations of our two oldest schools, Rockwell and Johnson. We supported the wonderful donation to construct the new track and field training center at Bethel High School and walked it through the legal process to make it a reality. We completed the expansion of our beautiful public library, at no additional cost to taxpayers. We secured grants to add new sidewalks for safe walking routes to schools and downtown shopping areas. We built one of the first municipal solar farms in the state to cut energy costs and reduce greenhouse gas emissions.
A very significant improvement was bringing a higher level of fiscal discipline to town government. When Rich and I first took office, we discovered a "hand to mouth" budgeting system that held no regard for future planning. Our General Fund balance was dangerously low, our town's pension plans were underfunded, and our bond rating had been downgraded to "negative watch" due to the town's weak financial health.
We quickly introduced a ten-year forward planning cycle and update it annually. Our bond rating is now AAA, the highest possible, a level only a handful of Connecticut towns have achieved. When Bethel sells a bond, the best investment firms in the nation line up to bid. Because of Bethel's strong financial position, we consistently earn the lowest possible interest rates. Our General Fund balance and pension funds have been restored to health.
Perhaps most important is the fact that these goals were achieved through bipartisan cooperation. Rich and I truly believe that public service means working with all parties for the betterment of our town.
This is work that requires substantial public management experience, creativity and leadership. Experience matters. It cannot be learned in a few months. It requires in-depth knowledge of municipal management, knowledge that can only be gained through training and experience.
Rich and I have that expertise. We also have a vision for our future, and these goals are at the top of our list:
Increase development of Clarke Business Park to bring new jobs and accelerate growth of the Grand List to hold down taxes.
Seek new opportunities to add clean, renewable energy systems to lower costs.
Complete the original road reconstruction schedule, now in its tenth year and nearly finished.
Seek another round of grant funding for further improvements of Reynolds Ridge, our senior housing complex.
Ensure successful completion of our Johnson and Rockwell school renovation projects, on time and within budget.
Finalize a new ten-year improvement plan for our town parks and recreational facilities, within budget parameters set by voters.
Modernize our recycling center to provide more cost-saving waste disposal and recycling options for our residents.
Continue to pay down old debt to protect our excellent financial position and ensure sustainable budgets in the future.
Rich and I are ready to continue our work for you and everyone in our town. We humbly ask for your vote this November, and we pledge to continue to work hard for you.
Matt Knickerbocker                                           Rich Straiton
First Selectman                                                   Selectman