Come to the Bethel Democratic Caucus on Wednesday, July 19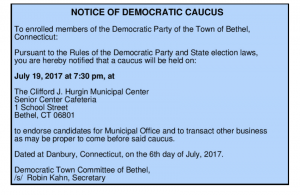 Local elections determine the money budgeted for our kids' schools, how much we pay in property taxes, and whether our town can afford enough snowplows to dig us out of winter storms. Presidential elections are important, but local elections determine whether potholes get fixed and the quality of the water coming out of our taps. They're about the kind of community we want to be. Come be a part of the process! This Wednesday, Bethel Democrats will choose the candidates who will run for election this fall at the Democratic Caucus.
It's at the C. J. Hurgin Municipal Center, in the Senior Center Cafeteria, at 7:30pm. All Bethel residents who are registered Democrats are strongly encouraged to come and participate! Not sure if you're registered? Click here to learn how to find out.