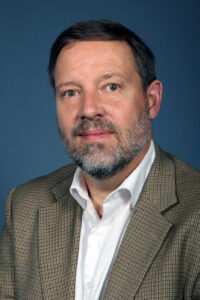 Rob Wallace, a 23-year resident of Bethel, is running for a seat on the Planning & Zoning Commission after serving the last four years as a P&Z alternate.
Rob's commitment to the community runs deep. He has served on the Inland Wetlands commission and on the boards of the Bethel Chamber of Commerce, Bethel Land Trust, Bethel Arts, Preservation Advocates for Terre Haute, and the steering committee for the Franc Nature Preserve. He's known for leading hikes in the Terre Haute portion of the Ives Trail and recently coordinated the cleanup of an illegal tire dump at the Terre Haute trailhead.
"The past four years as a P&Z alternate has taught me a lot," he says, "and I'm eager to take the next step to a full seat on the commission." An avid outdoorsman, Rob is an advocate for classic "smart growth" principles that concentrate growth in the already-developed areas of town while protecting forests, trails, and natural resources. "Three hundred years of history show us that growth in Bethel is inevitable," he says. "But I firmly believe that growth can be managed through town policies that strike a balance between quality of life, conservation, and economic prosperity."
Rob earned his Master's degree in Communications from the University of Baltimore and currently works as a senior communications manager at FUJIFILM Holdings Americas Corp. in Valhalla, NY. He can also be found on Saturdays "manning the table" at the Bethel Farmers' Market for Daily Fare, the Bethel bakery he has co-owned with his wife, Robin, for 14-years.