First Selectman (Incumbent)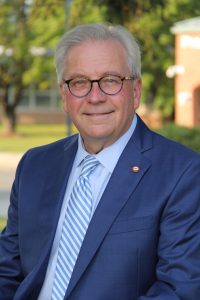 Matt brings a wealth of knowledge and experience to the position of First Selectman. Prior to his election in 2009, his private-sector career spanned 30 years in senior-level corporate executive positions. His background includes extensive experience in general management, budget development, contract negotiation, customer service, human resource management, information technology management and logistics.
Matt began his public sector career in 1999 when he was elected to the Bethel Board of Education. He served a total of 10 years on the school board, seven years as its chairman. During that time, he led the board through two major school renovations as well as a top-to-bottom curriculum realignment.
Following his election to the office of First Selectman in 2009, Matt quickly began addressing critical infrastructure problems by launching a multi-year road reconstruction program. Under his leadership, heating plants have been replaced in several school and town buildings as part of a comprehensive energy management initiative, and Bethel became one of the first towns in the state to install a municipal solar farm.  More recently he led the drive to approve full scale renovation of Bethel's two oldest elementary schools.
One of the most important accomplishments during Matt's tenure has been the vast improvement in the town's financial outlook. Under his watch, the town has increased its fund balance and eliminated its short-term debt, earning the town the coveted AAA bond rating. This is the highest rating possible and saves taxpayers millions on high-value capital projects.
Matt is also active in regional and state activities. He is currently serving as chairman of the Connecticut Interlocal Risk Management Agency (CIRMA), a member-owned, nonprofit insurance company that provides liability and workers compensation insurance and risk management consulting to Connecticut municipalities and school districts. He is also a member of the board of directors of the Connecticut Conference of Municipalities (CCM), as well as chairman of CCM's legislative subcommittee on transportation and infrastructure; as well as a member of the board and executive committee of the Council of Small Towns (COST).
Matt and his wife Adrienne are Michigan transplants who have lived in Bethel for more than 40 years. Their two adult children, Alyssa and Devin, are both graduates of Bethel Public Schools. Alyssa is now a writer who lives with her husband and three children in Suquamish, Washington, and Devin is a corporate attorney living in Seattle, Washington. Matt holds a Master of Public Administration degree from Post University.