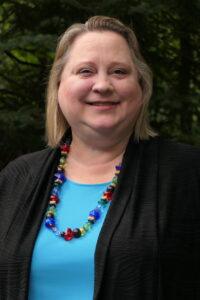 Family Details/ Town of Bethel History, e.g. lifetime resident, longtime resident:
I and my husband Jason have resided in Bethel for 25 years. We have three children, a son Jake who graduated from Bethel High in 2009, a daughter Logan who graduated from Bethel High in 2021, and a son Kaleb who is a sophomore at Bethel High. We have hosted exchange students from Taiwan last year and this year. We also have two Standard Poodles, and three cats. Bethel is a wonderful place to raise a family and I will work to keep it that way.
Education:
B.S. in Mathematics and Computer Science,
B.S. in Chemistry
Waynesburg University, Waynesburg, PA
Recent Work History, Description and Titles:
I recently retired after 30 years at Revlon/Elizabeth Arden as a Business Analyst and Project Manager in the IT department, supporting projects in the finance and ecommerce areas.
Town of Bethel and Community Activities:
I have lived in Bethel for 25 years and I have been very involved in the Bethel High School Marching Band Boosters from 2006-2009 and 2018 to present, currently serving on the executive board as Treasurer. I am also Treasurer on the Board of Directors of Danbury Area Refugee Assistance (DARA) and work with refugee families to help them settle in the area.
Leadership Positions and Governmental positions held, if any:
I served on the Board of Finance from 2019-2021. I serve as Treasurer and on the Board of Directors on two separate non-profit corporations.
Other Information/Interests:
Why you are running for the position sought…
I have served on the Board of Finance previously and would like to continue serving the town in this role.
What has drawn you to local politics?
I have been involved in town issues since I started going to Planning and Zoning meetings 18 years ago when the property at 32 Hickok first came up for development. I enjoyed researching and presenting challenging questions to P&Z with the ultimate result being that the town purchased that property and it will remain open space. Now that I am retired, I am able to serve the town in an official capacity
Why you are a good candidate?
I have experience creating and tracking budgets in my career and my volunteer work and I am excited to continue to use these skills on the Board of Finance. Whether municipal, corporate, or non-profit, I treat the money as if it were my own to create and maintain a responsible budget. I will continue to work toward the goals of supporting education, safety, and disciplined financial stewardship by steering us towards responsible budgets and spending.
I am dedicated, tenacious, and skilled in gathering information and data and analyzing that data to make sound decisions. I have experience as a previous member of the Board of Finance and will continue to use my skills toward the goals of maintaining Bethel's AAA rating and quality of life including safety and education and smart growth.
What do you hope to accomplish in this position (i.e., what are your top goals)?
It's very important that we maintain our town's AAA rating so that we continue to receive low interest rates. One aspect of this is to pay down debt and stop using the town "credit card" to pass expenses to our grandchildren. Another important point is to understand financial and other policies that are particular to town government so that we do not inadvertently cause lawsuits to be brought against the town. I also believe it is important to be transparent to taxpayers when creating a budget so that when we need to make cuts, those cuts are real and not just smoke and mirrors to lower the tax rate but do not actually reduce spending. It's time we take back the majority and point our town away from regressive initiatives and prejudicial policies
What's one thing people might be surprised to learn about you?
I have collected Barbies all of my life and I probably own all the Barbies that appeared in the movie.