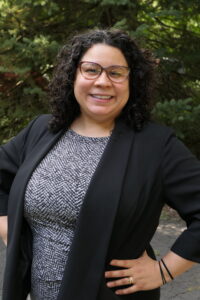 Family Details/Town of Bethel History, e.g. lifetime resident, longtime resident:
I have been a Bethel resident since 2018 when my spouse and I moved here from Co-op City in the Bronx. We met at Fairfield University. I grew up in and started my teaching career in Cambridge, MA
Education:
Lesley University, Cambridge, MA
M.Ed. in Early Childhood Education (PreK-2) Students with or without Disabilities
Fairfield University, Fairfield, CT
B.A. in Sociology and Anthropology, minor in Latin American Studies
Recent Work History, Description and Titles:
Education Coach and Consultant – partnered with home childcare providers to improve the quality of education and care in their programs.
Head Dual Language Teacher, ages 3-5 (English and Spanish)
Town of Bethel and Community Activities:
Bethel Community Food Pantry
Trashapolooza and Earth Day Fair
Planted Trees with the Bethel Land Trust
Leadership Positions and Governmental positions held, if any:
Sustainable Bethel Commission
Other Information/Interests:
Embroidery, Painting, Nature walks
Why you are running for the position sought…What has drawn you to local politics? Why you are a good candidate?
I am running for school board member to fulfill my civic duty and participate in our town's democratic process. The increasing threat of regressive fascist policies in other communities and states is ever present and drives me to actively participate in our town's politics. As a Bethel resident that contributes to the tax revenue of the town, I want our tax dollars to be spent wisely for the benefit and progress of our community and its residents. I want to do my part to ensure high quality and appropriate education for all Bethel students with safe and reasonable teacher responsibilities, and sufficient support specialists.
I am a good candidate because I have more than 15 years experience as an educator. I have been a teacher in afterschool programs, childcare centers, public and private schools in 3 different states, as well as the director of a nature education center. Most recently I worked at a non-profit as an educational coach and consultant with providers of in-home child care.
My top priorities as school board member are to:
Advocate for teachers, students and their families. I advocate for a safe, healthy and appropriate learning environment for all.
Uphold the Mission, Core Beliefs, Equity Statement and strategic plan adopted by the Bethel Board of Education and BPS.
Accountability for all stakeholders while implementing practical logical solutions in day to day classroom and school life.
I plan to do my best to ensure our neighbors have equitable access to learning and educational support. I will advocate for and champion teachers to have reasonable workloads with appropriate and necessary support specialists. My purpose is to help maintain an equitable lens to enrich our learning environments with cultural responsiveness and accountability.
What's one thing people might be surprised to learn about you?
People may be surprised to learn that I was born in El Salvador and English is my second language which I learned at 6 years old. I am fluent in Spanish and was a dual language teacher at an NYC preschool.