Zoning Board of Appeals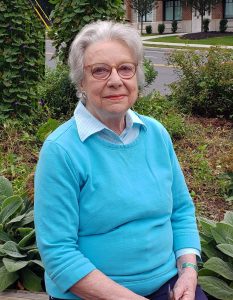 Frances Gildea O'Neill has years of experience in local, state, and national government and detailed knowledge of Bethel's land use regulations, which set the standard for zoning appeals. She served on Bethel's Planning and Zoning Commission for eight years, and sat on the Economic Development Commission during the planning and building of the Francis J. Clark Industrial Park.
On the national level, she worked as a staff member for Senator Thomas J. Dodd (D-CT), Congressman James A Mackay (D-GA), and Congressman Michael J. Feighan (D-OH), as well as for the Senate Subcommittee on Juvenile Delinquency and the Congressional Relations Office of the Department of Housing and Urban Development.
Frances has been involved as a life-long volunteer in Girl Scouts, the Bethel Land Trust, the Bethel Food Pantry, and the Senior Center. She has volunteered as a mentor at the Bethel Middle School. She has also held office in various national, state, and Danbury-area political groups and is a founding member of the Danbury Area women's Network. She studied music at Pembroke College in Brown University.
Books and board games are her favorite pastimes.